Law Firm Management (Innovation Series #2)
Quick Recap – Innovation Trends
Welcome to the second part of this series on Innovation Trends in Law Firms. In the first part, we introduced the background and discussed the first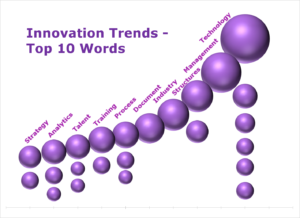 of the Top 10 words – Technology. The selection methodology is based on frequency of mentions in the Business of Law section of the FT innovative Lawyers Asia-Pacific report. I read some posts last week that sensationalized the use of robotics in law firms. In hindsight, I could have mentioned that a robot using a Natural Language Processing based algorithm was deployed to uncover these trends.
However, we are turning our attention this week from Technology to the second most significant trend in innovation in law firms – Law Firm Management.
Law Firm Management : You Want The Trees or the Woods ?
The mention of the word Management, evokes thoughts related to various management functions such as Human Resources, Marketing, Knowledge Management, etc. A lot of innovative practices are breeding in some of these functional areas. However, there is also a macro trend of innovative law firm management practices driven by environmental changes. So, let's not miss the wood for the trees. Let us turn our attention first to the bigger picture and we will come back to more operational aspects of law firm management.
Key structural changes in the past decade such as Swiss Vereins, law firms going public (Slater & Gordon several years ago in Australia), Alternative Business Structures (ABS) and the Legal Services Act in the UK have contributed significantly to the complexity of law firm management.
The success of many of these alternate structures is being debated and these are no panacea for all law firms. The disruptive forces of technology itself can create unprecedented volatility, uncertainty, complexity and ambiguity (VUCA).
Managing the millennial workforce also presents challenges that law firms may not be very familiar with. Most law firms have not institutionalized their knowledge base, which resides in the enigmatic cranial chambers of a select few. This is in stark contrast to a world that has witnessed information explosion and insights drawn are democratized and a matter of public record. Sample this –
"What is the EU?" is the second top UK question on the EU since the #EURefResults were officially announced pic.twitter.com/1q4VAX3qcm

— GoogleTrends (@GoogleTrends) June 24, 2016
NB: I am sharing this tweet from Google Trends merely to demonstrate the manner in which insights drawn from Big Data is being made public at no cost. No political strings attached at all !
We could continue illustrating these more macro trends but let's just say that the increasing complexity of the internal and external ecosystems of law firms is a clear trend. Navigating these turbulent waters requires deft handling; either leaders groomed from within the firm in the practice of management or management talent carefully absorbed from other industries.
Innovations in Law Firm Management
Having established the case for innovation and fresh thinking, let us look at the myriad ways in which the innovation trends in law firm management are manifested. It's time to examine the key themes underpinning most of these innovative initiatives:
Professional Management
The search for "law firm management" is still elusive. Continuing with our reliance on Google search, it is pertinent to note that there are only 10-15 searches globally each day on Google for Law Firm Management. Supplement this with your experiences of law firms around you and think of the management issues that law firms are trying to resolve. Mostly, the search is for the islands of document management, knowledge management or practice management software systems and very little discussion is taking place on getting the right management team and structure.
One of the key trends underlying innovation in the field of Business of Law is the establishment of a strong professional management layer. In last year's FT Asia Pacific Innovative Lawyers 2015, while picking out the winner, the report described us as "one of the first in the country to employ non-lawyer business professionals in management positions and to make significant investments in advanced knowledge management technologies."
In addition, law firms need to vest management and decision making authority in such professionals. I have seen a few firms struggle after inducting management  professionals at the helm, despite top notch credentials. Half measures can do more harm than good, since the firm may inadvertently send an inverse signal to its team.
On the other hand, cookie cutter approaches to management typically don't work in law firms. The management teams of law firms need to align with the environment and craft appropriate policies. The implementation approach needs to watch the law firm screaming "Fragile : Handle with Care" – What is fragile that needs to be handled with care is left to your imagination!
However, if the debate of a law firm being a profession or a business is still raging, it is fairly obvious that law firm management is a unique challenge and needs to be handled differently. I have learnt some lessons about managing change as CEO of a law firm for the last 5 years.
Diversity of Skills
We live in VUCA (volatile, uncertain, complex and ambiguous) times. Uni-dimensional skills or mind-sets are just not adequate for sustainable success of any organization in such times. However, most will argue that lawyers are individualists by training and by design. The modern law firm requires a team of diverse skills and cultures to work together in teams. This requires professional management teams and practices.
Induction and acceptance of diverse skills in law firms is a catalyst for innovation and disruptive practices. At the risk of over-simplification, different professionals are tuned differently. Consequently, a team of cross-skilled personnel will likely see many more perspectives and more creative solutions.
Some of our most interesting innovations could not have been possible without access to diverse skills such as Analytics, Digital Learning, visual communication, etc. The analytics skills, partially recruited and partially groomed internally, contributed to a cultural change and more effective decision making. As per the FT report this year, our project "Collected data and embraced analytics across all its practices and business functions to change behaviour and inform management decisions."
However, it can be risky and costly to import skills from outside without first selling the change internally. In my experience, one needs to ignite the fire for learning new skills among the existing team members. The firms that enable digital self-directed learning will see the rise of the autodidacts and thrive in this VUCA world.
Institutionalization
Individualism vs Institutionalization is a one-sided debate in most law firms. The innate individualism of lawyers often results in re-inventing the wheel, even for routine tasks. This is also manifested in mis-allocation of tasks to resources with inappropriate skills and / or costs. This is clearly a sub-optimal solution for clients and there is a crying need for change.
Innovative law firms are waking up to the needs of institutionalization of the modern law firm. One can start with standardizing and / or automating repetitive processes and codifying the cumulative knowledge base. This will result, among others, in lower costs, higher margins, faster turnaround time, consistent solutions and increased client satisfaction.
In Conclusion
We will be reviewing operational and functional aspects of innovative law firm management practices in the respective posts around Process, Document Management, Training, Analytics and Strategy. However, one cannot drive sustainable change across all functions without establishment of a strong law firm management layer. Law firms have traditionally considered themselves self-sufficient and trashed the need for professional law firm management.
One Firm's Trash is Another Firm's Treasure
All the best for your own treasure hunt !
Coming Up Next
The next post will focus on Structures, in continuation of the series on Innovation Trends in Law Firms. Read more about the Law Firm Innovation Trends series in the introductory post.
About the Author
Rajiv Maheshwari has around 20 years of experience across several knowledge industries and is the CEO of Anand and Anand for the last 5 years. Rajiv's leadership has helped the law firm (a leading IPR firm) earn recognition in the fields of Technology, Big Data / Analytics, Innovation, Client Service and as an "Employer of Choice". The views expressed in this article that was first published here are personal.
Share this post, like or follow